INVOLI is a Swiss-based company which develops and produces air traffic awareness systems for professional drone applications and regional airports
INVOLI is an ISO 9001 certified company and a team of passionate people whose goal is to improve the efficiency of our clients' operations through disruptive products.
Based in Renens (VD), INVOLI has expertise in:
✔️ Drone tracking & identification
✔️ ADS_B, FLARM Air Traffic Receiver
✔️ Visualization Platform
✔️ Complete Air Traffic Surveillance
We are glad to have them in our network since 2021.

Learn more about INVOLI : INVOLI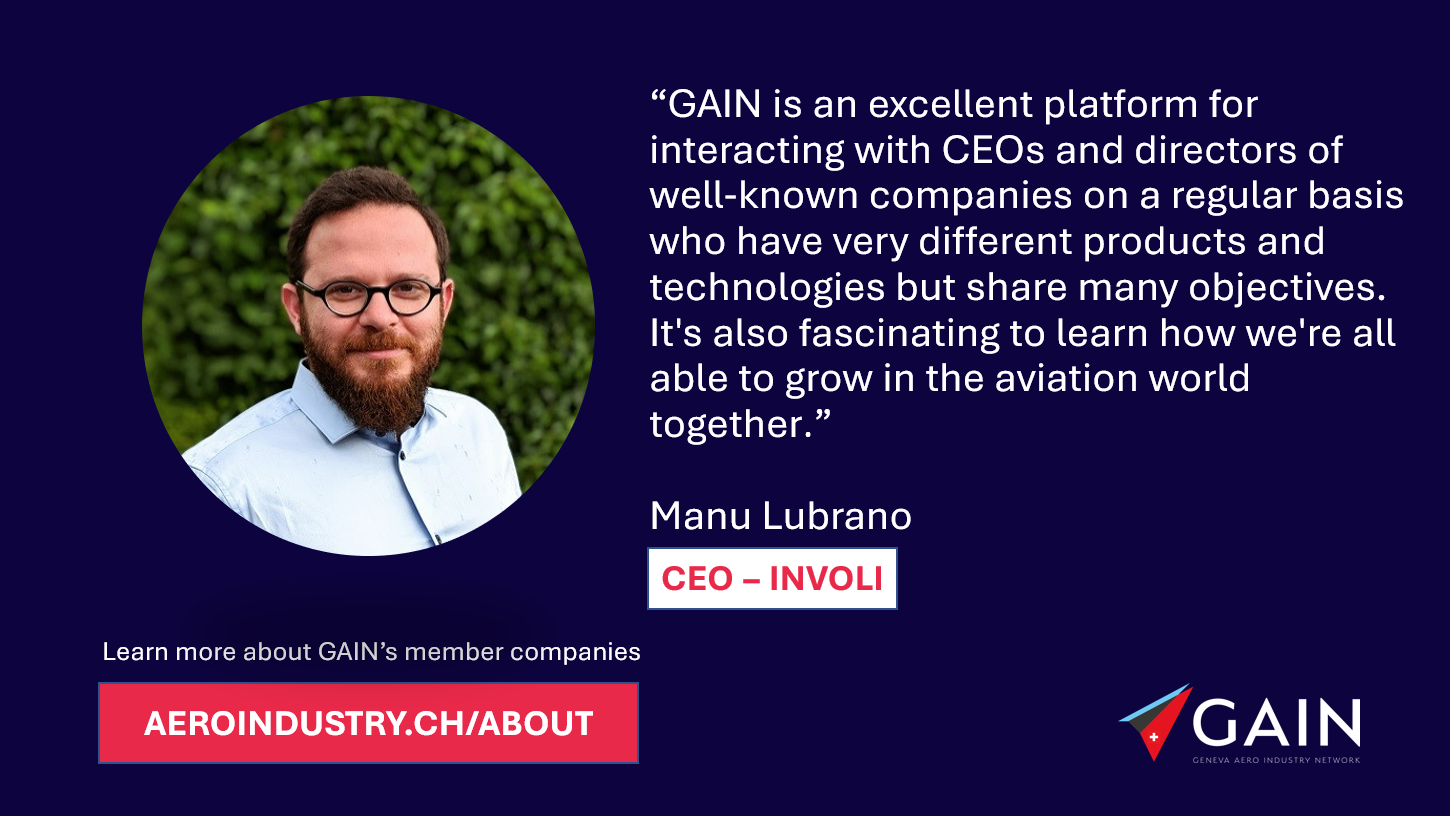 Manu Lubrano, CEO of INVOLI 
▪️ Manu, what are you passionate about ?
"What will be the next major technological revolution?", I always ask myself this question. I believe that aviation has a high potential for disruption, despite all the complex safety requirements and regulations. So I put a lot of passion into learning about this environment for a better understanding of how we can improve it for the benefit of all.
▪️ What do you work on ?
At INVOLI we are developing and commercializing a system that allows the safe integration of drones and drone taxis into air traffic. We have a mixed hardware and software solution that allows detecting air traffic flying around a drone which allows collision avoidance. A significant part of my work also involves discussions with regulatory bodies explaining how this technology works and following the evolution of the regulatory framework.
▪️ Why did you decide to join GAIN ?
I joined GAIN because the drone industry is actively integrating the aviation world. As a result, it is critical to build partnerships and join associations that are well-established in the aviation industry. GAIN enables us to establish closer ties with aviation players in the French part of Switzerland, while certain associations in Switzerland have a strong "Swiss German" focus.
▪️ What do you like the most about it ?
GAIN is an excellent platform for interacting with members who have very different products and technologies but share many objectives. It's a great experience to meet and talk with CEOs and directors of well-known companies on a regular basis. It's also fascinating to learn how we're all able to grow in the aviation world together. The association is well-structured and managed in an efficient manner, allowing us to get right to the point in the discussion, and as a result, it provides great value to its members.
💡 Learn more about our members, the core players of the Swiss aerospace industry !